See on Scoop.it – Kunst in de journalistiek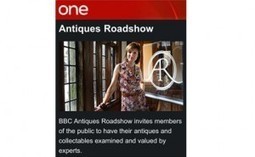 The BBC is going to use companion screen apps to enhance the enjoyment of programmes but also introduce audiences to what can often be a wealth of programme related information and interactivity online. The broadcaster will launch its first companion screen app this September in the form of a play-along game for Antiques Roadshow, a gentle Sunday night affair where the public bring family treasures for experts to analyse and value. The BBC is harnessing the fact that most viewers already try to second-guess the experts with their own valuations. You will be able to play the game whether you are watching live or on-demand.
Victoria Jaye, Head of IPTV & TV Online Content at the BBC, used Connected TV Summit last week to make the announcement but also outline the general companion app strategy for the broadcaster. She views show-related companion activities on smartphones, tablets and even the PC as a way to explore new creative opportunities. She made it clear that ownership of the app, in terms of the content and viewer experience, will belong to the production teams and that this is considered crucial. The production department will drive the format, while the technology development team will realise their vision.
See on www.v-net.tv